Back to Special trucks, cars and chassis
TATRA PHOENIX Dakar 4x4
Orders: +420 724 902 903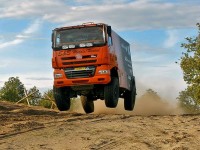 This special rally truck is produced in customised series for cross-country and long-distance (marathon) rallies such as the Rally Dakar, Africa Eco Race, or Silk Way. The truck is constructed in line with applicable FIA regulations and meets requirements of ASO (the Dakar Rally organiser).
Photos from the process of construction of the special racing TATRA Phoenix truck.
The chassis with the 4,290 mm wheelbase is of a standard Tatra concept with single-axle suspension of each wheel and a central tube which eliminates truck torsions and bending.
Both axles have pneumatic suspension. The ride height can be controlled from the driver workplace. Four Reiger dampers are available in addition to the axle suspension. It is possible to control four parameters: low, high, rebound, corner control. The front axle is equipped, in standard supplies, with a front stabiliser.
The steering uses a ZF single block and a power steering which eliminates shocks in a steering wheel - it turns 3.5times between end positions.
Hutchinson alumina discs with Bead-lock safety locks are delivered as standard supplies. Upon customer's request, steel wheel discs can be supplied.
Tires on the trucks are Michelin XZL, 4,00 R20, If required, Pirelli Pista tires in the same dimension can be delivered.
Standard equipment includes a manual tire inflation system which can be controlled from the driver workplace during the driving.
The is a heavy duty in-line 6 cylinder PACCAR MX with the displacement of 12.9 litre with a charge air intercooler. The lower oil pan is always modified so that the truck could be operated in big longitudinal or transversal gradients. The engine delivers approximately 870 horse powers with the torque of 3,800 Nm. Power parameters of each engine can be specified by the customer.
A special rally Sachs clutch with ceramic lining is used there.
The gearbox is a 16 speed ZF 16S 2530 with a manual control and straight linkage.
The chassis is equipped with a two-speed auxiliary transmission TATRA/TALOSA where shifting is possible when a truck is stationary.
The driver cabin is a short version of the standard TATRA PHOENIX with certain modifications for rallies. The standard equipment includes an internal protective frame and four Reiger dampers with rigidity control.
Options includes an external protective frame, Hella auxiliary headlamps, rally seats for the crew, 6-point certified seatbelts for HANS, safety foils on side windows and other equipment. If specified, the completed inside equipment can be installed in the truck.
In standard supplies, there are two fuel tanks with the total volume of 800 litres.
The standard specification includes a complete protective frame behind the cabin.
If specified, a complete rear body superstructure can be delivered as an option in line with customer's wish and proposal. This includes complete wiring, reserve wheel attachments, tool boxes or spare parts.
If required, TALOSA technicians can help adjusting the chassis or provide testing premises. All necessary spare parts for the service life of the truck can be specified too.
The trucks are typically delivered within five months after a binding order is placed.
The price of each car depends on the final specification.
For more information call please +420 724 902 903 or send an e-mail at talosa@talosa.cz.
Read more about Holland Team in DAKAR Rally